Automotive Products
At National Molding Dynaplas we support the transition of the auto industry from ICE to hybrid and electric vehicles including the advancements in ADAS. As current trends move towards sustainable energy sources and autonomous transportation, we are proud to be aiding customers in the development of innovative products that support these advancements.  Examples include lightweighting by converting metal parts to engineered plastics and our development of LIDAR brackets and other integrated ADAS components to improve performance and safety.
Improving Upon Metal
The conversion of metal parts to light weight, engineered resins is a major focus of our Dynaplas Toronto facility. With no compromise in function or performance, and often a meaningful improvement in performance attributes, thermoplastic is an excellent alternative to metal.  Conversion improvements Dynaplas has executed for customers include combining multiple metal parts in legacy assemblies to one integrated molded part, reducing cost, weight, NVH, and lead time, while eliminating corrosion.
Global Supplier of Tier 1 and Tier 2 Suppliers
We are a global organization, supporting customers from our North American and Asian manufacturing facilities. We supply some of the largest Multinational Tier 1 and Tier 2 suppliers in the Automotive Industry.
Our tight tolerance products are predominantly "under-the-hood" functional parts that withstand harsh environments, including extreme temperatures conditions.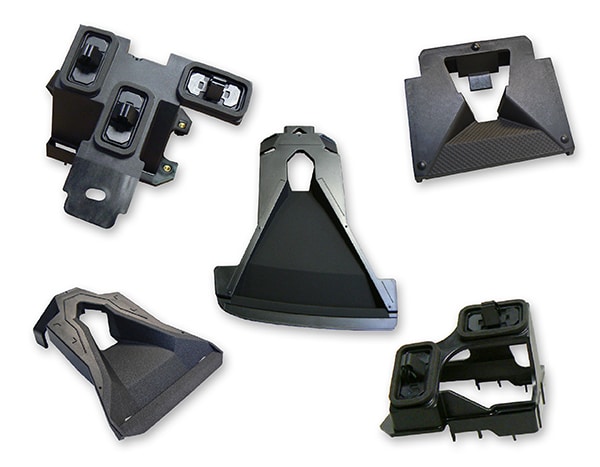 ADAS - (Advanced driver-assistance systems)
Supporting the transformation of ADAS design including part finishes preventing sun glare from impairing SR RADAR performance.
Innovated a matte paint to prevent sun glare

Developed a textured molded finish to replace painting

Reduced processes steps

Reduced manufacturing lead times

Reduced cost
We are pleased to be playing a part in the improvement in automobile safety.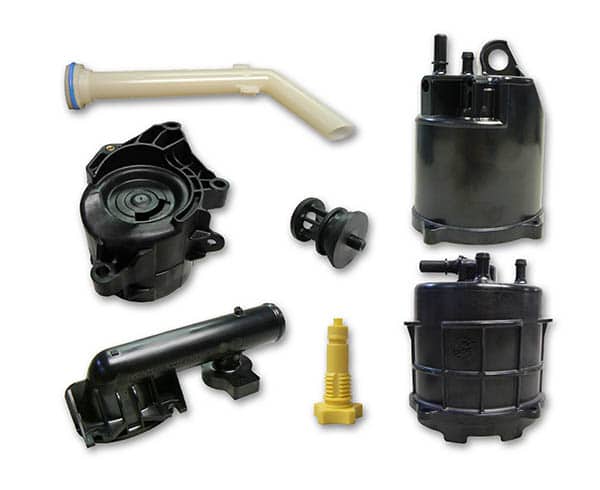 Thermal and Fuel System Components
NMC Dynaplas molds complex, multi core pull technical parts requiring dimensional stability and tight flash while ensuring unobstructed flow passages. The part designs and engineered thermoplastics specified for these parts are challenging, requiring serviceable tools and vacuum for process assistance. 
Safety Braking and Cognitive Components
NMC Dynaplas has exceptional repeatable outcomes in tight tolerance and burst testing; for consistent and dependable braking, including ABS/TC fluid control systems.
Electrical Components
NMC Dynaplas molds many Electrical Component including over-molded thin wall, assembly critical potting housings for keyless / Smartphone automatic door handles, strategically placing parting lines on bobbins to ease mechanical wire wrapping, and smooth tooth to tooth interactions for gears.
Eco-Launch TM Start / Stop Solenoid Valve and Hydraulic Accumulator
The Start/Stop Accumulator Piston is an aluminum to engineered thermoplastic light-weighting design evolution to provide energy efficiency flexibility to existing and new transmission applications. 
The multi-component machined aluminum die cast design consolidation of three components was optimized in Thermoplastic with extensive FEA simulations and validated with prototyping within 12 months.  The prototype tool design was scalable to multi-cavitation in multi-continental production regions – NMC Dynaplas Toronto and NMC Dynaplas Shanghai.    
Powertrain Systems
NMC Dynaplas began its molding journey within Powertrain systems with the production of overmolded bearings for pulleys, critical friction / wear components such as thrust washers, and spring carriers. Overmolding remains at the heart of Dynaplas's capabilities, expanding into other overmolding ranges like magnets, compression limiters, shafts, and leadframes.
These are just a few areas of the automotive market we support.
Best Practices with Reliable / Dependable / Serviceable Technical Tooling
At National Molding Dynaplas we continue to challenge ourselves to play a key role in use of engineered plastics in tough real-world applications supporting advancements in safety and the electrification and automation of Transportation systems. 
Best Practices with Reliable / Dependable / Serviceable Technical Tooling
Design for ease of manufacturing, maintenance, and repair

Design for longer and robust production runs 

Design for cycle time optimization

Design for consistent quality

Design for solutions